Classes are held three nights a week. Doors open at 6pm.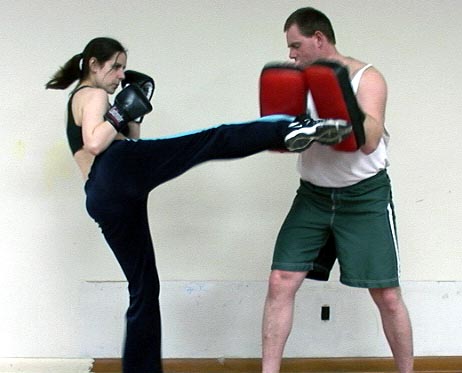 Tuesdays / Thursdays – Stand-up Fighting
Doors open at 6pm. Class begins promptly at 6:15pm and ends at 7:15. We typically begin with a 15-20 minute workout followed by drills involving punching, kicking, clinch fighting, and occasionally takedowns & grappling.
Wednesdays – Weapons & Ground Fighting
Doors open at 6pm for Weapons class. Class begins promptly at 6:15pm and ends at 7:00. Class will focus on stick and knife drills, patterns, and sparring. Students are encouraged to purchase their own stick sparring gear, though a limited supply of rental gear is available. Ground Fighting class begins at 7:00pm and ends at 7:45. Class consists of grappling & Jiu Jitsu drills and free-rolling. Students may participate with or without a Gi.
Additional free classes available to UMA Students
Saturdays – Combat Conditioning
On Saturday mornings, UMA students and their friends & families are welcome to join us for combat conditioning workouts. Doors open at 9:00am and the workout begins promptly at 9:30. First-time attendees are encouraged to arrive at least 15 minutes early to learn proper kettlebell and TRX technique. Workouts are planned based on total RSVP's: attendees must register in advance by emailing the instructor or signing up online each week by 6:00pm on Friday. Be sure to check the calendar in advance.
Fridays – Volunteer at Max Higbee Rec Center
Students are encouraged to share their passion for the martial arts and be of service to their community. This session is bi-monthly and is held on the 1st and 3rd Friday of every month. To learn more, read about UMA's adaptive martial arts program.