Exergrip Putty: Hand Strength Conditioning
I purchased this form of Grip Putty called "Exergrip" from Fred Meyer for $6.99. It has been beneficial in developing continued hand strength and endurance. Today there are many similar putty-type hand strengtheners available at sporting good departments. Putty such as this can be squeezed, stretched, and pulled in order to do several different strengthening exercises for the muscles in your fingers and hands. Not only is it a highly effective hand strengthener, it's fun to use as it relieves stress and tension.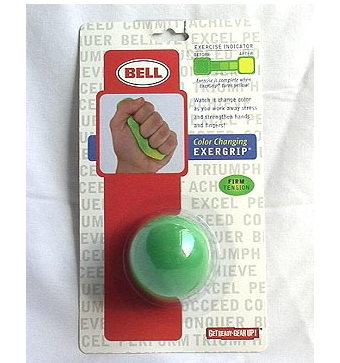 Other hand exercisers like springs and balls work only the muscles that close the hand. Grip putty strengthens all the muscles in the fingers and hands to develop powerful, quick hands. When it comes to training knife defense, a strong grip is exactly what you want. Strong hands will improve your weapon retention and disarming skills. Therefore, consider this a crucial training aid in your ongoing efforts to ensure your own personal protection.
Grip Putty is also recommended by hand surgeons, therapists, and professional sports trainers for the prevention and rehabilitation of injuries.
1. The Finger Extension
Place putty in palm. Use other hand to stretch putty outward.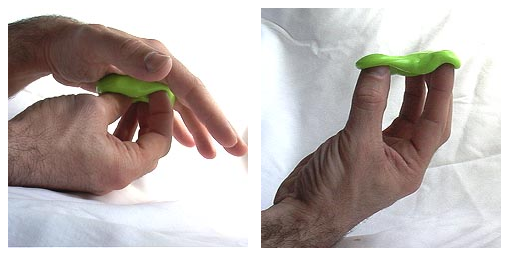 2. The Finger Press
Place putty ball between finger tips and thumb. Pinch putty.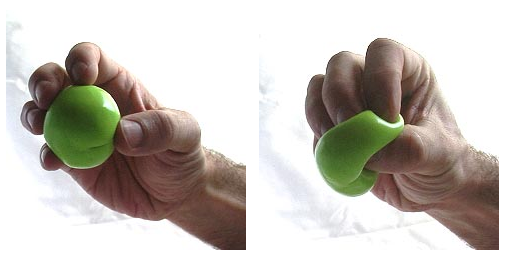 3. The Finger Curl
Place putty in palm. Curl fingers in to palm and squeeze putty.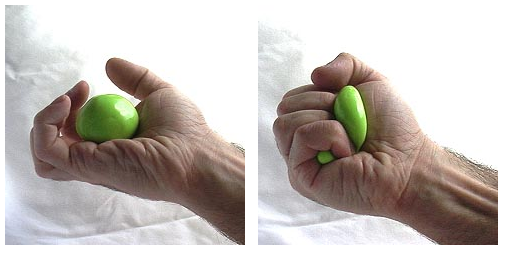 4. The Finger Scissor
Pinch putty in between two adjoining fingers.
Note: Similar hand strengthening for combatives can be achieved by squeezing a tennis ball. Begin with 50-100 repetitions each hand.
Dyna-Flex: Perfect for warming up your wrist and forearm before Escrima practice!
Have you seen these at your local sporting goods store? If you've passed the Dyna-Flex up in the past, stop next time and ask to give it a try. Feeling is believing, and once you get a feel for the burn this little piece of exercise equipment can put on the muscles in your forearm you'll appreciate its effectiveness.
The unique Dyna-flex mechanism spins internally and has no motor. Once you get the gyroscopic action going, your grip workout will have it whirling at 9,000 revolutions per minute. Your wrists, grip, and arm will be taxed as you work against its motion and challenge yourself to keep hold. This item assists in building strength while improving coordination. The resistance can be controlled by the user increasing or decreasing the speed of the gyroscopic action.