Date: March 3rd & 4th, 2012
My teacher Tom Weismuller's teacher is Christopher Petrilli.  Chris Petrilli is a former U.S. Army Ranger, and for years Chris trained in the Philippines directly under one of the founding members of the Doce Pares Eskrima system, Cacoy Cañete.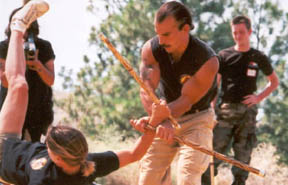 Petrilli is now one of the highest ranked students of Cañete's, holding the esteemed rank of 10th degree black belt in Doce Pares.