With the advent of more and more No-Holds-Barred competitions on television I get more and more inquiries from people saying they want to be an MMA fighter, yet they do not know of any local competition sites, they do not train anywhere, or they do not have a consistent training regimen. Below I have listed a few venues to explore for those interested.

CANADA
In Burnaby, British Columbia, there is the "Western Canada Challenge." It hosts a variety of martial arts competitions from stand-up fighting to ground-fighting: SKIL Forms and Point Fighting, WKC (Face and No-Face Contact) and SKIL Continuous Fighting, Brazilian Jiu-Jitsu, Freestyle Grappling, Modified Pankration and Filipino Stick Fighting.
Further information can be obtained at www.wcmac.ca.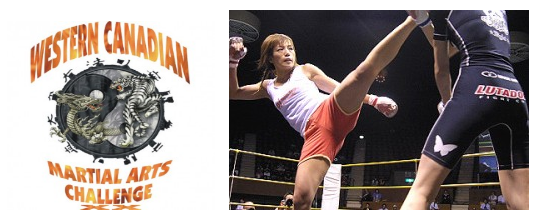 SKAGIT COUNTY
Kalahi Martial Arts Academy hosts Friday night fights in Mt. Vernon with 150 max capacity. The school promotes a good sensibility of competition along with a positive representation of mixed martial arts. All competitors get custom "Fighter" T-shirts and a small honorarium for their participation.

SNOHOMISH COUNTY
Charlie's Combat Club -1202 Hewitt Ave, Everett Wa 98201. The owner hosts N.H.B. fight events at Edmonds Community College. More info can be found here: www.axfighting.com. The competitions consist of MMA, Kickboxing, and Muay Thai. MMA is 3 x 3 min rounds, Kickboxing is 3 x 1.5 min rounds, and Muay Thai is 3 x 2 min rounds. Title fights are 5 rounds and all fights are in a ring.
Charlie's Combat had a website called: www.lockflow.com that shutdown in 2015. In the past, they hosted Submission Wresting Tournaments in Bellingham.

KING COUNTY
Local Brazilian Jiu-Jitsu and submission tournaments organized by Liberty Events and Promotions, LLC based in Seattle.
EASTERN WASHINGTON
Fightforce.tv matches amateur fighters for shows as nearby as Spokane, WA, and as far as Butte, Montana. Occasionally they are in need of first-time fighters. Per their promoter, all their fighters receive gloves, fight shorts, products from their sponsors, and medical coverage.
For more info contact Bryan Deats 1-406-570-0758. (gladiatorcombat@hotmail.com)
OREGON
Full Contact Fighting Federation started in 2001 in Bend, Oregon. It has featured hundreds of amateur bouts and crowned champions in five different weight classes.
OTHER LOCAL VENUES
Local casinos put on shows periodically. Check in with the following:
Silver Reef Casino
Nooksack Casino
Swinomish Casino
Muckleshoot Casino
Emerald Queen Casino
Tulalip Casino
OTHER RESOURCES
A good place to find upcoming fight events to compete at in the Pacific Northwest is the NW FightScene Magazine's website.
For strictly Judo Tournaments: Judo Northwest.
---
Our school:
Students at Unbridled Martial Arts receive training designed for sport fighting and street self-defense; the curriculum shows how to modify techniques to succeed in both. Prospective students ask me, "Do you have sparring?" & "Will your training environment prepare me for competition?" Yes & yes. Sparring is done at the intensity level partners agree upon. Since we are currently at a 4x a week schedule, an MMA athlete would need to train independently when class is not in session.
Advice:
Know the rules inside & out. Not all events that bill themselves as MMA fights will have the same regulations. Some will allow certain techniques while others may prohibit or modify them. The following food for thought might not matter to those who are simply out to experience fighting and competition and test themselves. Regardless, here is a bit of advice to fighters. Know where your hard work and/or financial dollars are going.
If you are paying a competitor's fee, you might like to find out whether the money goes toward future events & fellow competitors or is merely lining the pockets of a promoter who has had no involvement in your training.
If you are competing, do you understand that you may end up signing away licensing for your image? Meaning, weeks, months, or years from now broadcasts or DVDs of the event may be produced and sold and you will not have any creative input or receive any form of residual payment.