Before I would recommend ever carrying a firearm for self-defense, the best thing for a person to carry for their safety is a cellular phone. Some misconceptions people have that dissuade them from purchasing a cell phone is they believe in order to own one they will need to sign a long-term contract that will incur pricey monthly bills even when they don't expect to use it much.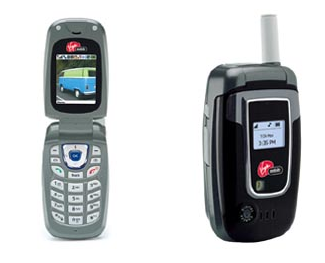 The cell phone is the most practical product for self-defense because an emergency 911 call can always be dialed without paying for the phone's activation. Plus, cell phones are a self-defense tool because they serve as mini-cameras. Cell phones that can take pictures are becoming a more common way for victims of crime and other eyewitnesses to help police capture criminals. Due to phones being so portable and always on, it takes only a moment to photograph the face or license plate of someone in the act of committing a crime.
Another added feature of popular cell phones is Global Positioning System (GPS) technology. If the need ever arose, GPS can assist 911 operators in determining your location.
Every cellular phone operator sells prepaid plans where users don't need a yearly contract. Many stores sell packaged prepaid phones. I have found prepaid phones with digital cameras & GPS technology just under $100.
For less than $50 you can buy a new, pre-paid cell phone without the digital camera or GPS feature. For those on an even tighter budget or who don't care about owning new, there's always the option of Ebay and local pawnshops.
Note: when you pay upfront airtime cost for prepaid phones you typically have a certain amount of time to use the minutes before they expire, unless you add more money to your prepaid airtime account.
Eight out of ten people aren't carrying information that would help if they were involved in an accident.
Recommendation: Once you own a cell phone be sure to "ICE" it.
This idea, which apparently originated with a British paramedic, could assist rescue personnel if you are ever incapacitated. What you do is create a contact in your cell phone's memory with the name ICE (for "In Case of Emergency"), listing the numbers of people you would want to be notified.
When entering more than one contact number: ICE1, ICE2, ICE3, etc. (Some phones allow for multiple entries under one name.)
Be sure that your emergency contact:
has agreed to be your ICE Partner.
has a number that is easy to contact. A home number might be useless if your ICE partner works full time.
has a list of people they should contact on your behalf: your employer, parents, childcare provider, etc.
knows about your medical conditions and history. The information they provide to EMS works could affect your emergency treatment. -Keep them current on your known allergies, regular medications, and current medical condition.
is your parent or guardian (if you are under 18). They may have to make decisions on your behalf.
Note: ICE entries are more likely to be of use to hospital personnel than paramedics; the latter don't generally have the time or the need to go searching for that type of information. ICE entries in cell phone address books should be used in addition to (not in place of) standard forms of identification.