I pride myself on my ability to teach anyone and everyone the pleasures of Martial Arts training–in essence, how to put the mind into the body and strengthen both simultaneously.
I can bring about this feat in anyone. I have taught children as young as 4 years old how to strengthen their concentration by channeling their existing energy into a spirit of commitment and achievement. And last year I taught a 74-year-old man who was vacationing in Bellingham for only the summer how to fluidly & comfortably move like he had been boxing his whole life.

I teach men and women ages sixteen to seventy. I teach teens gifted with natural athletic ability and in a separate program I am honored to teach those who are physically & mentally challenged; including hearing impaired.

Simply stated, I believe this training can defeat obstacles. Below I have included all of the testimonials and endorsements people have provided me over the years (in random order).

In their own words, hear directly from students paving their own way…
–Rob Eis, School Owner & Instructor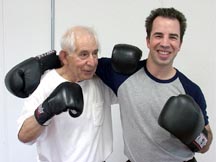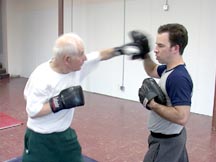 ---
I have studied martial arts for several years, under many different instructors in a number of styles. The common threads I've found in quality training have always been a focus on progression in a supportive and open atmosphere, not an obsession with egos, domination or ranks. Meaningless goals like belt levels tend to force students to stay fixed on a destination, while missing the journey. Competitiveness usually only alienates people from the true purpose of martial arts – to learn valuable skills and techniques that can protect self and others, while achieving new levels of physical fitness and cultivating higher mental discipline. Rob's teaching embodies the best philosophies and concepts in a training program that can be beneficial for everyone. UMA's curriculum is truly rewarding for those who put their full effort into it. We train hard, sometimes go at it with as much realism as possible (without resulting in serious injury) and keep it all tempered with positive martial philosophy and the freedom to adapt the technique to work for us, instead of following some prescribed regimen in verbatim. UMA is the highest example of a martial arts school where quality training and learning override business and status and I am very lucky to be a student here.
Dave Hutchinson
---
In 2006 I discovered the UFC and my passion for MMA. I decided that lifting weights and jogging were too boring and not for me so I joined a commercial Muay Thai gym. I was quickly disappointed with the school and with my membership. Not only did it cost me a lot of money every month, I had to sign a ridiculous contract. The classes were very slow-paced with lots of practicing in front of a mirror and bowing to everyone. Then I heard about Unbridled Martial Arts' low price, no contracts, no belts, no kids. It was a no-brainer that I had to start training with Rob at UMA. I was amazed at how well Rob's classes were structured and utilized every minute. I learned practical techniques and even had a chance to do some light sparring in my first week. I was instantly hooked. Rob has taught so much throughout the years and continues to teach me new techniques and ways to improve upon old techniques each class. I have so much respect and appreciation for all Rob has done for me, his students and our community.
Randy Newton, construction
---
Every Tuesday and Thursday night for the past six months, I have attended martial arts classes with Rob Eis at Unbridled Martial Arts. As an active community member, parent and small business owner, finding the time to attend class isn't always easy, but it is always worth the effort. Unbridled Martial Arts has had a very positive affect on the way I approach physical fitness and life in general. Having never participated in martial arts during my youth, I was reluctant to begin a program as an adult. I have several friends who participate in traditional martial arts programs, and have witnessed their training sessions as well. I knew that the traditional approach was not for me. Unbridled Martial Arts offers an informal, yet well-orchestrated learning environment for adults whose primary goal is to learn technique, effective stretching methods, and self-defense strategies. Rob Eis uses a blend of styles to achieve those goals. From the first night of class I was learning the proper fighting stance. I was throwing punches, executing kicks and using knees. Instead of throwing punches into the air, I was paired with a partner who provided me sensory feedback by holding pads for me to land my blows. In addition to immediately learning new skills, I was getting a good workout and having fun while I was at it. Rob has proven to be a humble and competent teacher. He works well with students of all abilities, taking time to make sure each individual executes each technique properly. I have never left class feeling as though I didn't learn something new. I look forward to the next six months of instruction from Rob at Unbridled Martial Arts!
Jon McGrath
---
When I first decided to join UMA, it was a massive leap out of my comfort zone. I can attest that at whatever level you join UMA, whether it's athletically gifted, or Average Joe, the course structure of UMA is undoubtedly welcoming, inviting, and fits those who want to learn or sharpen their skills. My initial goal was to lose weight and hopefully not embarrass myself. I started at UMA at 200 lbs in 2014 and now after almost 2 years I am at 165, far more lean and muscular than when I started, and on top of that I gained confidence, discipline, and a skill set that I have no doubt I could use to defend myself or others if needed. I began with the striking classes on Tuesdays and Thursdays and got comfortable, but I found myself wanting more, so I started attending the grappling class, then eventually the weapons class. I not only accomplished my weight loss goals, I found a lifelong passion. I never considered martial arts as something I would venture into, but Rob's enthusiasm and passion for martial arts inspired me to continue. The students were just as impressive, I never felt out of place. From day one, those in attendance were willing to work with me and teach me, I did not feel as though my lack of training hindered someone else's progress. Since my first day, I have continued the same level of respect and eagerness to work with and teach new students that I was shown in my early training.
My experience at UMA has had a massive impact on my life and I can't even begin to put it into words, I am struggling to make this concise enough to be a window into my experience and not a novel. This testimonial is just a small attempt at helping someone else possibly find what they are looking for. If you want practical self-defense instruction from a knowledgeable instructor at a ridiculously affordable price (especially considering the cashback rebate), Unbridled Martial Arts is the place to go. Thanks Rob!
Michael Leach, Cook, Prepared Foods, Wholefoods
---
I have been training at UMA for about four months now and it has become very important part of my weekly routine. The first thing that struck me about UMA is the low cost. Being a college student I am unable to afford the high prices and contracts that are required at other schools. At thirty dollars a month there is not much to lose when you enroll in the class. When I began attending UMA I found that the program and the instruction far exceeded my expectations. Rob is a very competent instructor in everything he teaches his students. Rob is proficient in boxing, kickboxing, grappling as well as stick and knife fighting. After the short time I have trained at UMA I have found myself stronger, quicker, more flexible and more self-confident. My technique in the arts taught at UMA has greatly improved as well.
Rob has designed a program that uses the most effective techniques in a very pragmatically structured atmosphere. I would highly recommend this program to anyone who would like to increase their self defense abilities or if you would just like to get a good workout that is also fun, rather than the monotony of running on a treadmill. The only thing I would like to see happen is an increase in class time; I would gladly pay more money to train at UMA for additional days or hours.
Kyle Koger, WWU Student
---
Before I went to Rob's classes I was doing Shito-Ryu (karate) for about 8 years. It was a very formal class and not much fun. I joined Rob's class because I knew him and wanted to try something different. Rob's classes help you out in a lot of real life situations. They are fun and Rob's school has a more relaxed environment. The things that I like best is the mat work that teaches you submissions and how to take someone to the ground. All of the instructions that Rob gives in class are very clear and easy to do. The classes don't go too fast so you are able to keep up with everyone else and not get confused. The classes aren't formal like a lot of other places that make you wear a uniform, bow or have a certain rank in the class. After each class you feel like you have just had a good workout so you're not too tired to do other things (compared to) when other places leave you extremely worn out. Overall Rob's classes are fun, useful, and not confusing.
Aaron Wilkerson, High School Student
---
Tired of the monotony of the treadmill at the gym, I decided to attend a kickboxing class, Unbridled Martial Arts, taught by Rob Eis. Not knowing what to expect, I prepared for an uncomfortable experience, with a lot of yelling, sweating, and confusing maneuvers. What I found was a small, friendly group of people of all different fitness levels, learning side by side. I wasn't the only new person. Rob took the time to teach us the basic techniques with concise directions, allowing us to go at our own pace until we felt comfortable enough to try more advanced routines. As the month went on, I began to look forward to the one-hour classes, knowing Rob would have a new exciting sequence for us to learn, accompanied with excellent warm-up stretches and light cardio exercises. Few classes offer the personalized and individual attention that Rob's class does. I would recommend the class to anyone interested in breaking out of a workout rut. In addition to achieving a healthier lifestyle, participants will learn to appreciate the unique strengths of their bodies, and improve upon their weaknesses, in a non-judgmental atmosphere. And chances are, some great friends will be made in the process.
Allison Schneider, Newsroom Assistant/ Staff Writer
---
Since day one I've been excited to come to class; my goal was to lose weight and improve my health. I found that I not only was feeling healthier but I was feeling more confident. UMA is VERY affordable; Rob and the other students are patient and encouraging. I'm thrilled to be a part of this great group! I encourage anyone and everyone to come participate.
Blanca Carr
---
I first heard about this class from my husband. He had been going to this class for some time and recommended it highly. I wanted a class that would teach me self-defense and give me a good workout at the same time. This turned out to be the class. The instructor is very skilled in teaching self-defense. He teaches techniques that are easily adapted to real life, and is so well organized that he finds time to fit in a great workout. I didn't have any martial arts experience so I was a little nervous before my first class. Five minutes into the class and that nervousness was put to rest. It is a very friendly atmosphere and geared toward all levels of experience, or non-experience, as in my case. I find the pace very comfortable with lots of encouragement. I feel confident about the skills I'm learning, my fitness level is increasing, and I feel invigorated after each class. This is definitely a class worth recommending.
Margie Miller
---
Being a fairly shy person, I was a bit nervous to join a martial arts class. As soon as I contacted Rob, I got a good sense of what he expressed to me, and liked what he described. When I went to watch a class and met Rob, I knew this was the right place for me, and was so excited to start. When I discovered Unbridled Martial Arts, any training of this kind was completely new to me, but that is accepted, even desired here. Rob, and everyone there was so inviting, and made me feel like I was welcome. This is the type of person Rob is, and so naturally these are the kind of people that join and stay. This is Rob's passion, and he's looking to share it with anyone and everyone. He's a great teacher, always ready to work with you on any level. Rob's teaching always made me feel comfortable. He pushes you to succeed and he believes in you, but never so that you feel forced. It is a completely free, and personable learning experience. Therefore if you're a complete beginner as I was, he's ready to bring his knowledge and passion to you. It's a great place for someone new to martial arts, as well as someone who's been training for years. I'm forever grateful for what I learned at Unbridled Martial Arts. I now have such a strong passion and desire to continue developing in my newfound love of MMA.
"The other" Brittany Lee
---
My doctor told me I need to lose weight or I was on the fast track to Diabetes. Knowing my habits and family health history I knew that was true. I went to UMAwith a goal of two classes a week on the first month. That was it. I'm on my 3rd month and I have lost 15 lbs. The incentive to make back $5 a week from the dues just by coming twice a week did keep me motivated. That's when I realized that I can fit two classes a week in my schedule. Let's face it, everyone now needs gas money. With that goal accomplished, I noticed after my 2nd month in UMA a bonus improvement that I didn't take account of in the beginning. My stress levels have lowered and my stamina has increased. What can I say about the classes that you haven't already read in the other reviews…no ranks, no rituals, a well-rounded Martial Arts program, patient, motivated instructor, great class environment. I am 40 years old and I am able to touch my toes without bending my knees for the first time in years. My back feels great after losing all that weight and gaining a better shape. My hand-eye coordination improved with the bag drills. My reflexes are more attuned from the live grappling and Escrima stick training. I am studying a skill set that will improve my confidence, reduce my stress and keep me active. There are also supplemental classes on Saturdays for strength training. Let's face it, finding time for physical activities on anybody's schedule is sparse and consuming. I have an hour and a half commute to work 6 days a week and my day starts at 3 in the morning. Work takes a toll on your mind and your body. I needed to take back control of my physical and mental health or my doctor's prediction would come true. I use to be an XXL now I am working on that L shirt.
Goals change and then I realized it's a lifestyle. Looking forward to the next class.
Jayson Nazareno, maker of planes, Boeing, Everett, WA
---
The instructor gives a great workout with a good variety of different moves that would be helpful in different situations. Rob is professional and courteous with everyone and goes the extra distance to make everyone feel welcome. I also feel he does his best to present different levels of work for the various skill levels as they appear.
Willow Lantzy, Accountant
---
I was with UMA for about a year while I lived in the area. I'd had about 1 year or so of experience prior to joining. I loved that the classes involved people of all fighting skills and that you're training with all different sizes and ages. It makes for a very well-rounded training experience. Rob takes extra time with newer individuals to help you get on track with the current students. I felt at home from day 1! I wish that more gyms would utilize this setting. You have a structured class plan, a friendly and professional environment that is set up by a very knowledgeable and passionate instructor. Rob even took time during class when learning new moves to show me how it would be relevant from a police officer perspective. I have and continue to recommend this class to just about anyone in that area that has mentioned having an interest in martial arts. If you're into fitness, want to learn self-defense, or have a higher risk job where continuing to hone your defensive tactics is absolutely necessary, UMA is a perfect choice.
Sanda M., law enforcement
---
UMA is amazing in the respect that Rob teaches useful street applications immediately as well as sport training. I love the focus on physical conditioning along with light stretching that starts out each class. I feel that these classes are ego-free for a more safe environment for beginner to advanced student interactions, as well as formatted to all learning paradigms, from auditory and visual to kinesthetic and written. Through repetitive drilling to sparring the class reinforces good martial habits and is built upon over time while still having immediate use in day to day life. I also respect that Rob is always free to answer any questions about a particular drill or maneuver. In summary, I believe that UMA is unique in its no-nonsense approach to producing well-rounded martial artists.
Shannon Anderson
---
Training at the Unbridled Martial Arts studio is a unique experience. Whether you have been training for years or you just decided to start something new, UMA accommodates all levels of MMA. Rob brings decades of experience and insight into his training. He isn't there to make money, but to bring the sport of MMA to the community and anyone who has interest in it. He opened my eyes and heart to what MMA can do for you not only physically, but mentally. He is constantly pushing and encouraging each student to surpass their own level and ability. The open and friendly environment makes it easy to establish great friendships. Everyone in the studio is motivating, caring, and interested in helping others. I give UMA the highest recommendation there is. I wish other studios like UMA were south of Bellingham. If you're looking for a memorable and challenging experience, this is the place for you!
Teila Evans, Project Manager at Educational Systemics
---
The fact that the instructor does not ritualize the program with traditions was a factor in my trying the class. I respect the teacher's unbelievable desire to share his skill and knowledge for reasons other than any notable financial gain. I have always wanted to learn some type of martial arts but I never pursued it for one reason or anther. With Rob's class there are no excuses. To say it's affordable is an understatement. The environment is structured yet very casual. But what impressed me most is how unintimidating the whole experience is & how much Rob gives of himself to the class. After a couple classes, the biggest surprise was how little focus I had when it came to using the brain and body at the same time. I have attended the class for one month now and I can see a definite improvement. The class emphasizes what would be the most logical and effective action in a self-defense scenario. After attending for one month I can think of nothing negative to say about the whole experience. I look forward to every session and (surprisingly) leave class feeling more energized than when I arrived. The class offers a chance for you to try martial arts (self-defense) with little commitment… it sounds too good to be true, HOWEVER this guy (class) is for real.
Derek Siemens, Student
---
My favorite part of Unbridled Martial Arts was that I left my very first day with self-defense moves that I could use immediately. Each day I attended, I felt like I built upon those moves and learned new moves. By practicing free rolling so soon in my training, I gained confidence in the practice of defending myself. Additionally, I enjoyed the atmosphere. The club was no pressure, and the people were extremely nice. Finally, the price of the class was incomparable, and with no contract I am glad that I can take time off when I need to and feel free to come back. I'm hoping to start back up again either spring or summer, when my busy season subsides. Thanks again for a few wonderful classes.
Michelle Silcott, Firefighter/EMT
---
I was impressed, my first day of class, by the informal atmosphere. Everyone is introduced to the program at their own pace according to their abilities and background. There is lots of encouragement, not intimidation. The class time is well structured and makes good use of the time. The instructor uses a broad range of effective but basic and easy to learn techniques that a student puts into action much more quickly than "traditional" schools. My personal reasons for going to this school is that I can get a brisk workout (about as much or as little as I put into it) and learn a skill at the same time. There are no pressures to get to that next rank level. You'll know if your skills are getting sharper without a new rank to show your friends. After a bad day at work, this is an excellent way to get out those frustrations and get a good nights sleep.
Bill Miller, Maintenance Technician
---
I was nervous the first day of class, however I quickly learned that even though I wasn't very good, it was okay. With enough practice I soon became just as good as the other students.
Sarah McCully, Student
---
Being a competitive woman bodybuilder, I spend a great deal of time in the gym working on various types of equipment. However, this class has been by far the best workout I have had for quite some time. In the past I have done a lot of cardio training in the gym on the standard equipment…boring!! This class has given me a fun way to work on my cardio training, kept me challenged, increased my flexibility and range of motion, given me a way to release stress and most important to me, a way to work off those extra pounds prior to a competition. Additionally, I have found the class to be very informal and comfortable to attend with many great people there to share information. Not to mention, Rob is a fantastic teacher who, unlike many, enjoys teaching as much as the students enjoy learning.
Jennifer Valadez, Olympic Health Management
---
I had taken a basic self-defense class a few years before coming to Unbridled, and had always wanted to learn more. My friend wanted to try it too so we started training together, which was great because we could partner together for drills and be at the same knowledge level.
I am a very visual learner, and Rob's teaching style works very well for me. At the start of each training there is some cardio and strength warm-up, which can be challenging, but you can always go at your own pace until you adjust to the routine. Rob explains new skills to the group and then often demonstrates them before having students try them out. Each lesson builds logically on past material. As a new student you get a lot of one-on-one teaching to help you master the basics first before you get thrown into drills.
The atmosphere at Unbridled is serious, but more casual and fun than the regimented environment at traditional martial arts studios might be. Rob is always happy to answer questions that come up during training or help if you can't quite get a skill, as are students who have been around for a while. I joined wanting to build the skills to defend myself and those around me (I swear by being prepared for anything!) and in just a couple of months I felt much closer to that goal. Training is physically challenging and will make you stronger and more fit as well. Unbridled Martial Arts is an AMAZING value, if you're on the fence about trying it, do it!
Hanifah McGovern, Executive Assistant
---
I found Unbridled Martial Arts (UMA) back in 2008. I had looked at some schools online but right away noticed the high price tag. Not only did the schools want high monthly tuition, they also wanted me to sign an annual contract and buy special uniforms. I was discouraged since I knew I wouldn't be able to afford all that and also I didn't know how long I'd be staying in Bellingham. Just as I was losing hope of learning MMA, I came across UMA's website.
I was surprised to see that there was no annual contract to sign nor were there any other hidden fees. I could join the school on month-to-month basis and train three nights a week. If I wanted to stop training, I was able to do so without getting penalized, unlike other schools and gyms that bind you with their annual contract. With UMA's affordable and reasonable enrollment structure, I must admit I was skeptical of the quality of classes offered but I decided to take a chance.
There were people of all skill levels and all shapes and sizes attending the class. Rob was very organized with his lesson plan. He explained and demonstrated things carefully at a pace that was very easy to follow even for the beginners. When students paired up to work on drills, Rob went around the room giving pointers and assistance where needed.
I am happy that I discovered Unbridled Martial Arts seven years ago. Rob is still expanding the workouts in new and fun ways. UMA is such a comfortable atmosphere where I never feel intimidated by others or out of place. At UMA, students help each other to succeed and progress together instead of beating each other to get ahead of your classmates.
We all take turns cleaning the mats after class instead of expecting our teacher or a janitor to clean them. When I notice my classmates' progress and my own improvement in class, I'm reminded that when you invest in yourself, your friends, and in the school, everybody gets better. I feel more confident in myself knowing that I have some self-defense knowledge and skills. I know this is a journey that will never end but I sure am glad that I got my start at UMA.
Teela Taki, Shipping and Receiving staff at REI
---
The great thing about working with Rob is that he is willing to integrate many different forms of martial arts into class, which makes each class as interesting as the class before. Every day we learn something new on top of getting an excellent workout. I was nervous when I first started class, as I had no prior training in any form of fighting or martial arts, but everyone in class was extremely helpful and Rob is always there to make sure you understand what is going on and how to do things properly.
Melissa Guenser, Account Manager
---
Thank you Unbridled Martial Arts. Attending Rob's class has enabled me to reopen a door in my life that has been closed for far too long. I have always been a fierce competitor but over the years I lost my focus and forgot how much I loved challenging myself mentally and physically. I absolutely love this training. It's been a long time since I felt this good. What a difference. Rob is not only a great instructor, he is an asset to our community. Very few people take the time to share what they believe is of value with others the way Rob does. I look forward to class every week and am thrilled to have the opportunity to train in this non-commercial setting.
Steve Scheffer, Director of Organizing, International Union of Operating Engineers, Local 302
---
Class enables me to blow off steam and I always leave feeling energized. Each session is self-contained, yet builds on what we've learned before, allowing people of all levels to progress. Rob is flexible with the lesson plan and works individually with his students. I believe people would pay a lot more to belong to Unbridled Martial Arts.
Kari Neumeyer, Author
---
Getting in shape has been a battle for me most of my life. I have gone through spurts of regular jogging, lifting, and trying to eat healthier, but it always seemed to taper off at some point, due to an illness or some other stress in my life, and I found myself back at square one, back in my old eating habits and sedentary lifestyle. After a few weeks of class at UMA, I noticed that not only did I feel healthier and in better shape, I was actually looking forward to going to class and working out. Learning about self-defense has made getting in shape a secondary outcome, and my newfound optimism about working out doesn't come from looking healthier, but from the fact that I know I'm developing toughness, mental discipline, and valuable skills.
Noel Abbott, Web Developer
---
This is the best, most realistic as well as safest training I've ever received in a civilian class. I've attended 6 different martial arts classes as a civilian and sat in on dozens of other classes and this is the most realistic training I've received outside of the military. It teaches almost all of the same skills as military combatives while being geared toward civilians. It is a very well organized class which teaches a good blend of hand to hand, grappling, and weapons fighting realistically. Because of this I was able to improve on all of the skills I learned while being deployed in Europe for a year. The real tragedy of the class is that so few people seem to realize how great it is.
Spc. Patrick Walsh, US Army National Guard
---
When Rob invited me to observe an entering class of young people at Unbridled Martial Arts, I was impressed with the interest and fun these teens were having. Rob used special equipment and encouragement to train these people and help them to interact. Some brought friends and all made new friends while learning new skills.
Ellen Clark, Account Manager, The Bellingham Weekly
---
I trained at UMA on and off for several months and really enjoyed the experience. Previously I studied Shotokan karate for ten years in New Orleans and Muay Thai Kickboxing at another Bellingham school for a few months. I really appreciated Rob's level of knowledge, training, and technical skill, and the way that he seamlessly combines traditional concepts and techniques with newer and less universal techniques. His classes are well-structured and I appreciated knowing how each class would proceed every evening – starting off with intensive conditioning and ending with the application and practice of core martial arts concepts. So in each class I was able to strengthen and condition my body, as well as practice sparring, working on combos, take-downs, etc. The instructor's many years of experience are evident – he draws from his diversified and extensive experience regularly, exposing students to a wide range of information, resources, and making evident his impressive skill level.
The facilities are extremely clean, a rare thing in MMA gyms and martial arts schools. Everything has its place and is very organized. I was very impressed with the extensive array of equipment that is made available for the students to use.
While the classes are very structured, the environment is laid-back and casual; all are welcome to come and train and you aren't made to feel inadequate. In fact, Rob customizes the classes to individual ability and levels of training. So while one group of more experienced students is performing a specific exercise, a newer group with less experience can still participate at a modified level.
The cost is unbeatable and only further serves to show the dedication of the instructor; he is doing this solely for his love of martial arts, not for the money. Having worked out at another local MMA gym where I was scammed out of more than $1,000, I really appreciate this about UMA.
Lindsay Hilton, freelance writer
---
I've found martial arts training to be a fantastic way to relieve the stresses of modern life and a great way to keep in shape while pursuing the obvious goal of learning a self defense discipline. Whether you can only go once in awhile, or several times per week, I can't say enough good about the training. I always leave feeling refreshed and energetic and that helps me to tackle a hectic schedule. Also, I've been plagued with back troubles for most of my adult life and the workouts and stretching do wonders for keeping my back in order. I've known Rob for about 7 years and met him when I first began my martial arts journey. Rob was a lead instructor at a local martial arts school, where I trained previously, before beginning his own school. I've trained with him in several different martial arts disciplines and I know Rob to be very dedicated, knowledgeable, and experienced in the various training methods. In addition to being a skilled trainer and teacher, he has a wealth of knowledge and a great proficiency in the martial arts. In addition to his qualifications I know him to be very patient and caring with his new trainee's, as well as an all around great guy!! Whether you're an experienced practitioner, or have no experience and a desire to try out martial arts, you couldn't ask for a better teacher and I encourage you to go for it!
Paul Murphy, Patrol Deputy for the Sheriff's Office
---
I really enjoy training at Unbridled Martial Arts. The atmosphere is relaxed but also fast paced. We are always doing something new in class, which keeps things fresh and exciting. After class there are always new techniques or variations to reflect upon. In six months of training, I have seen my ground fighting skills improve significantly. I have also noticed a marked improvement in my core strength and flexibility. I feel confident that I am a more rounded martial artist from training at UMA. I would recommend this school to any beginner who is looking to test the waters of self defense and martial arts, and also to more experienced students looking to expand their horizons or cross train. The non-traditional atmosphere is not intimidating to beginners, and is often refreshing to martial artists from traditional schools. The low monthly tuition and lack of contract is a huge incentive to join for a month and see if you like it. The things I like best about UMA are that the class is informal, we train hard, everyone is improving, we have fun training together, and I have made some new friends.
Daniel Smith
---
Being a single mom I don't have a lot of extra money. This class is not only affordable, it's teaching me self-defense while having a fun workout with a great bunch of people. I found that even though we are all at different skill levels Rob and the other students are all very patient and encouraging. This is a "me" time that I really enjoy. Thank you Unbridled.
Carie Nelson/Customer Service Rep
---
I have been attending the UMA kickboxing classes for two summers, and have found the lessons well organized and imaginative, as well as informative. The instructor expresses himself well and tactfully. There is an abundance of equipment, and the room is refreshingly cool.
George Caldes, Retired
---
I must admit that I joined UMA due to the low enrollment fees. $30.00 monthly for three classes a week is a steal of a deal! I'm a full time student working less than part time, so it's very encouraging to be able to participate in a training program without worrying about affording it. Some might equate the low cost with lack of quality, but I would strongly disagree. The low cost seems like more of an invitation to share in a group activity that combines art, fitness and practical self-defense.
What I enjoy about the class most, though, is the friendly and laid back atmosphere (this isn't to say that we don't work hard). My experiences in previous martial arts schools have been of varying levels of skills and accompanying ego- a form of competition that is discouraging for those who aren't wanting to dedicate their lives to martial art, but would rather have fun and learn a new skill. As Rob's flyer says: "no masters*. Just competent fighters." Sure, I might not be prepped to be a professional fighter, but I maintain confidence and sense of assertiveness in knowing that I'm capable of defending myself and being more in touch with the physics of body. Overall, the lack of "cult-like" atmosphere and the down to earth attitude takes away the stressors that usually come with a martial arts class/school. It's given me the motivation and drive to better maintain my fitness level as well. I have and will continue to recommend Rob's class to those who are looking for a martial arts class for fitness and fun.
Dane Kim, Student/Barista
---
Passion, Skill, ongoing Knowledge and Professional. To find qualities such as these at a Martial Arts School can be rare. To find them all in one Instructor is even rarer. Rob Eis and his Unbridled Martial Arts School have all of these. Rob's Passion to his school, students, and his training are noticeable from the first time you meet him. He devotes a lot of his own free time to provide training to all of his students. Those who pay him and those he teaches due to his passion for his Art. He provides a great deal of useful knowledge for a minimal fee; he doesn't waste your time with outdated training or tradition. His Skill is well documented, yet he is not overbearing or unapproachable to ask questions. He provides a full range of Martial Arts instruction with great skill. He continually seeks new training to incorporate into his teachings. His ongoing Knowledge lets his students and other Instructors know that he has an open mind and is always looking to improve. He is eager to learn and will try new material and not tie his hands to one way. This provides his students with a wide variety of information to constantly work with. Rob is a true Professional. He is a hard worker, a great self-promoter and an up standing citizen. Rob proves it's not Quantity but Quality. He provides a safe, clean and fun training facility with energetic instruction. His students share in Rob's energetic teaching and create a great atmosphere. I recommend Rob Eis and Unbridled Martial Arts to anyone looking for great Instruction, well-rounded training, a safe environment, and professionalism.
Robert Ellsworth, Whatcom County Sheriff's Office
---
I am a bouncer at a local nightclub as well as a security specialist for various events and individuals. In seeking a martial arts school to improve my on-the-job effectiveness, skills, and training, it was imperative that I found an instructor and training style that was flexible, practical, effective, versatile and comprehendible.
After reviewing many of the schools in the area it was crystal clear that Unbridled Martial Arts was a perfect fit. Rob, as an instructor, is outstanding in his delivery of information, demonstration of technique, and passion for helping everyone experience success regardless of fitness or skill level. The flexibility of styles from Western Boxing to Judo to basic ground fight techniques offers me and my fellow classmates an unparalleled arsenal of skills to apply. Unbridled Martial Arts is an excellent choice for anyone looking for substance and integrity in a martial arts instructor and school.
Brian (B.Y.) Young
---
Coming from a long traditional martial arts background I was nervous going to my first MMA class. I was expecting to be surrounded by sweaty guys looking to make it to the UFC by using me as a kicking bag to get there. I was afraid that people training MMA would be animals who were there just because they wanted to hurt people. But what I found at UMA was much different and superbly better than anything I could have imagined. I found a group of down-to-earth people that were looking to have fun, learn a new skill and stay healthy. As time went by I found myself leaving each class more and more excited to come to the next. I became friends with my peers and had a great time getting in shape and learning self-defense techniques that actually would work! Not some silly knife hand techniques that only work if you can stop time and position your opponent's body in the perfect manner, but techniques that would work if you really were in a dangerous situation. I loved this about UMA. I also love that while I was being taught these effective self-defense techniques I was also being taught how to apply them in the sport scene (both stand up and Jiu-Jitsu/ ground game). I highly recommend Unbridled Martial Arts for those people who are looking to try MMA for the first time, particularly the people who have been disappointed by the traditional martial arts scene and are ready to experience something vastly better.
Boris Ilic, WWU graduate and current Grad student at Montana State University
---
1.) Thank goodness for Martial Arts. It filled a void in my life – knowing what I know after a couple months. I should have started 20 years ago, but I have at least that much left, and Martial Arts will be a part of it. 2.) Fitness – I am 8 lbs. lighter, self-defense skills are much better. My attitude has changed for the better. Thank you for so much.
Jerry Guilmette, Guilmette's Busy Bee's
---
The price is so affordable, for what you're teaching. With no contracts, there's no pressure that you're going to be stuck with anything. The classes offer great cardio and a friendly environment, where students develop the skills to work partner drills safely through a system of signals. Rob gives each student personal attention. Every single class has something special.
Israel Pedraza, engineer
---
I love the martial arts. I previously trained at two different schools in the area, learning various styles and traditions. However, the cost and contracts of both of those other schools eventually became a burden that I did not want to bear. So I resigned myself to the thought that I would not get to pursue my love for martial arts until I became rich … that is, until I discovered Unbridled Martial Arts. Initially I was attracted to Unbridled mainly because of the low cost and lack of contract. However, from my initial class with Rob Eis and thereafter, I found several other things about Unbridled that I greatly appreciated. First of all, Rob is a talented martial artist himself and displays strong abilities with a humble attitude. He is also a good communicator and is able to guide his students well on the path to becoming better martial artists themselves. The class setting is informal and friendly. I get a great workout and learn something new every time I go. There are no stuffy uniforms or traditions to worry about (and if you're into martial arts merely to claim that black belt, you're in it for the wrong reasons). Rob presents techniques from a variety of martial arts, a nice change from the attitude in many schools that their form is the best — not to mention that it makes classes interesting because you never know quite what to expect next. In short, I would recommend Unbridled Martial Arts to anyone who wants to learn self-defense, get a good workout, meet friendly people, and not cut deeply into their budget to do so!
Paul Peterson, Graphic Designer
---
My fiancé Jeremy and myself have been attending class at Unbridled Martial Arts for nearly 3 months now. The main reason we chose Unbridled was because of the reasonable rates. We figured for $30 each per month we had nothing to lose. I was very nervous about going because I have not had any previous experience with martial arts or fitness in general. However it only took a couple of classes for me to feel completely comfortable and confident in my ability to learn under Rob's instruction. Jeremy really enjoys training with Rob because of the diversity of the training. Jeremy does have some background in martial arts and wrestling and Rob is always open minded about what other people have to offer to his class. I enjoy training with Rob because he is attentive and if he sees me doing something incorrectly he shows me how to do it right without discouraging me or making me feel silly. I also like that rather than sticking with one traditional style, Rob just teaches what works. It's about effective self-defense instead of belt bragging. I would highly recommend this class to anyone. In fact we have and some of our friends have already joined. I personally feel terrific after each class regardless of how my day began.
Mindy Smither & Jeremy Simmons
---
Unbridled Martial Arts has changed my life! The classes have helped build my confidence, strength and focus of mind. It's an extremely affordable class that provides as much challenge as I can take as well as a focus for my stressful life. I really feel that over time I can develop strong physical and emotional boundaries from the techniques that UMA provides. The type of technique he teaches is geared more towards street fighting, using simple, yet direct and effective moves towards an opponent/predator. I feel it is important as a woman to know how to properly protect myself and after taking Rob's class for almost a year, I am definitely well on my way.
Brittany Lee-Anderson, Licensed Massage Practitioner; The Chrysalis Inn & Spa
---