Members of Unbridled Martial Arts have access to ready-made music compilations containing an assortment of songs to workout to, including many local band favorites!
The UMA Workout CDs are an ongoing series available to all active members for a nominal fee of $3 to cover production costs.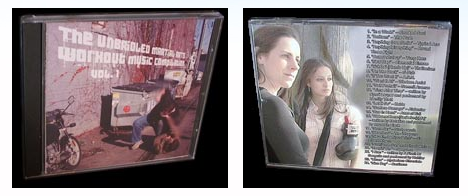 What began as a small project to compile some local music rapidly blossomed into a mission to showcase the best tunes guaranteed to inspire the best performance in a martial arts workout. I'm overjoyed & honored to have so many incredible songs on this CD. On top of that, it is touching to have the support of many like-minded individuals –those willing to share their music with a different scene and not withhold it for payment or profit.
Elemental Emcee, one of our featured artists, expressed the following sentiments in his lyrics: "It's art to me, and it ought to be, you know it's all for the people to hear, read, and see." I really appreciate and applaud that type of philosophy and dedication to creating and sharing music.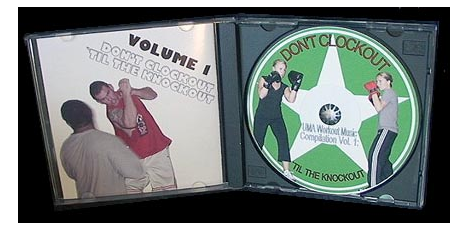 As my students can testify, music plays a key role in my classes. I love to put on 2Pac and drill boxing routines, or do Filipino Stick Fighting to some killer beats of Jay-Z and Linkin Park in the background providing rhythm and timing.
As a member of Unbridled Martial Arts you now have access to ready-made music compilations containing an assortment of tunes to keep you moving and inspired during your workouts outside of class time. The UMA Workout CDs will be an ongoing series available to all active members for a nominal fee of $3 to cover the cost of production materials.
On this CD, you'll notice I've corralled different independent musicians. Some were even bands that I grew up listening to in my high school days, (Sludgeworth). When I approached different bands I sensed they grooved & identified with my martial arts school being about as "indie" as you can get. For the past four years, my school has managed on minimal funds, yet we train just as hard as any commercial school, and I don't charge an arm and a leg for students to learn from the decades of experience I have in the arts. I'm surrounded by such a cool scene and community –whether it's the martial arts scene or the music scene.
This workout compilation contains a wonderful variety of music: Ska, Punk, Rock, Pop, Piano-based Alternative, Hip-Hop, Metal, Rap. Much the way "Mixed Martial Arts" takes the most successful and effective elements from various art forms, that's what this Compilation CD wound up doing. These tunes are a prime example of what selecting the best of different genres can do to achieve one goal –this goal being powerful music to evoke a powerful workout. Press Play & Namaste!
---
Anything For A Smile – by Typical Ace
Anything For Everything – by Round Three Fight
Yuk Lai (Hands Up) – by Thaitanium
Want It All – by Western Aerial
Self Portrait – by Summit Avenue
Time After Time – written by Cindy Lauper, performed by Identity Theft
Welcome Home (Sanitarium) Mix – written by Metallica, performed by Razed in Black
Neu Em La Nguoi Tinh – by Khanh Khanh
Sushi – by A Gun That Shoots Knives
I Ran – written by Flock Of Seagulls, performed by HolFiller
Uhura – by Mysterious Chocolate
---
Unbridled Martial Arts has the express permission to include all performances on this compilation.
Click on the text below for more information on a featured artist and find out where to get more of their music:
Crooked Soul
– an awesome experimental hip-hop group out of Philadelphia, PA.
The Push
– Seattle, WA. ska band.
Typical Ace
– a punk rock B'ham Band.
Round Three Fight
– glorious pop-punk from the Northern California Bay Area.
Yung Herc
– a 20-year-old rapper from Arlington,TX. (Use permitted by Renard Talbert, CEO of
FreakLink Music
.)
Elemental Emcee
– a creative master of ceremonies with numerous battle accolades. Elemental Emcee serves potent hip-hop out of Atlanta, GA. with a quest for social and political change, all the while encouraging you to be your own hero; seeking humanity before profit.
Thaitanium
– among the first of Thai rap artists, the group formed in 2000 and has since released five albums and has performed for the MTV Asia Awards and was an opening act for 50 Cent.
G-Dub
– this man dons the title rapper, producer, writer, CEO of Dubtrax Entertainment (DTE), and actor extraordinaire from the Bay Area, CA.
A.S.N.
– an incredibly talented underground hip-hop artist who fabricates his banging beats and intelligent lyrics for the everyman. First class delivery from Boston, MA.
Western Aerial
– pure fist-in-your-face, foot-stomping rock with all the right hooks & infectious melodies coming at you from Portland, OR.
Summit Avenue
– Seattle, WA. alternative rock band.
Identity Theft
– incredibly talented band from Los Angeles that's enthusiastically "Rockin' the 80's, all of the time!"
Kelda
– an LA-based female singer/songwriter whose music has been classified as stripped-down, "piano-based" alternative pop-rock along the lines of Tori Amos & Sarah McLachlan. Kelda's music has been featured in some of these television shows: Cold Case (CBS), High School Reunion (WB), Trippin' (MTV), and several of The Real World and Road Rules episodes on MTV.
Alabaster
– Seattle, WA rock band.
Axes of Evil
– a B'ham metal band.
Razed in Black
– "
Blackest Album, Vol. 3: Industrial Tribute to Metallica
" from the Cleopatra label.
Sludgeworth
– an outstanding American punk rock band from Chicago, IL.
The Weapons
– Seattle-based modern garage rock meets 70's raw punk.
Gia Khanh Khanh
– for Bellingham residents: if you've ever eaten at the House of Orient on Holly Street in downtown B'ham, then you are in for a real treat. This is a dazzling display of B'ham local, owner and operator of the House of Orient, Jimmy Nguyen, singing in his native language of Vietnamese.
A Gun That Shoots Knives
– totally original music from Seatlle, WA that will leave you scratching your head in confusion and laughing with delight.
Deep Lee
– the creator of phat beats and original rhymes straight from Port Hadlock, WA.
Holfiller
– enjoy this local hard rock band's awesome 80's rendition of "I Ran". Holfiller's passionate lyrics, interwoven guitar lines and aggressive rhythms are delivered straight from Spokane, WA and they credit their influences to such artists as U2 and Faith No More.
Mysterious Chocolate
– no mystery that this B'ham punk rock band kicks ass. This local band includes a former
Unbridled Martial Arts
student, Kevin Lindsay.       When Kevin wasn't playing & breakin' bass strings he was training & breakin' arms with us. Completely kidding. Thanks for the song, guys!
Cantinero
– cool down with this electroacoustic alternative vocalist from Catskill, NY whose songs have been flatteringly compared to "The Smiths."
---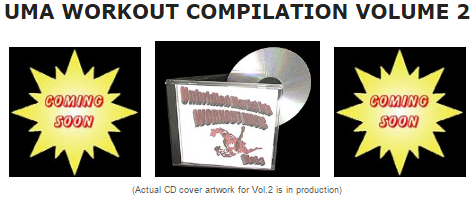 ---
Would you like to have your music heard in an upcoming compilation? Submit your song for approval at the following address: 
music@UnbridledMartialArts.com