UMA hosts one free Women's Self-Defense Seminar every 3 months.
Date: Determined by those registered
Time: Monday or Friday evening, Saturday or Sunday
Seminar length: 1.5hr
Location: Unbridled Martial Arts studio
Each quarter, UMA conducts a free self-defense course for the community. We schedule the date based on a consensus of the participants. Club membership is not required. Instructor Rob Eis' assault prevention program is a 90-minute workshop designed exclusively for the needs of women. All equipment is provided.
Would you and five other friends like to brush up on your self-defense skills? Notify us by filling out the reservation form below and we will find a date that works for everyone.

How it works
All participants must pay a $10 reservation deposit in advance that will be refunded after attending the workshop.
No-shows who do not cancel their reservation 48 hours in advance will not be refunded.
Fill out and submit the registration form at the bottom of this page.
Shortly after submitting the form, you will receive an online survey inviting you to select which dates work best for you.  Pick as many as you like

*

.
Over 120 different time slots are made available to choose from every quarter!
(see example photo of the online scheduling survey below)  
Once a minimum of 6 people have agreed on a date & time, you will receive an email request for a $10 reservation fee via check or PayPal.
Once all fees are collected, the date is set in stone.
A final email will be sent with a waiver & directions. (Be sure to check your spam folder so you don't miss it.
* Note: It is helpful to have a full week's notice once the date is selected. There must be enough time for checks to arrive & clear.
If the minimum amount falls below 6 attendees due to cancelations, the workshop will need to be rescheduled.
For those who choose to use PayPal, a PayPal service fee (less than $1) that UMA is charged will be subtracted from the reservation amount upon your refund.
---
About the course
All equipment is provided. Approximately 50% of the class is physical and 50% is lecture/discussion oriented. It isn't entirely technique based; I teach more about Tools, Targets, and Tactics. I address many of the unpleasant realities of common assault situations such as when a man grabs a woman by the hair or when an assailant tries to bring a woman to the ground.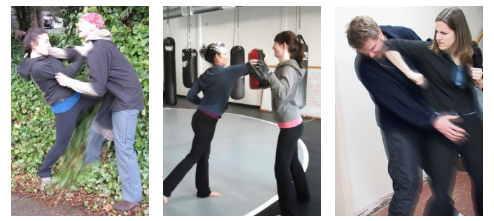 Much of this course focuses on the prevention of an assault and therefore never having to get physical.
Whichever physical technique is taught, we practice it slowly and safely, gradually building the intensity in a controlled, supervised environment. The methodology I teach is a simple format to remember. It is designed so that it can easily be passed on and shared with other women in your life: daughters, girlfriends, and mothers.
For six years I was a corrections officer and court transporter for juvenile offenders so I have a unique perspective on violent crime, predatory mindset, and the legal ramifications of use of force in self-defense. I also earned state certifications as a Defensive Tactics instructor for law enforcement agencies.
I can customize this course to any needs you would like addressed. I've taught this course to companies, which aids in team building, and I've provided it to groups of girlfriends, where it became a confidence booster and bonding experience.
---
Each quarter registering opens two weeks in advance.  In other words, those who register by mid-September will be scheduled into the Fall quarter workshop.  
Fall Quarter = October to December
Winter Quarter = January to March
Spring Quarter = April to June
Summer Quarter = July to September
---
What's been said about this workshop:
"It supports and encourages a person's own common-sense approach while showing simple techniques that build confidence." – attendee

"We not only had a great time but also learned many skills that could help if ever threatened or unsafe." – attendee