Muay Thai Workshop with Master Saohin – all levels welcome.
Date: March 3rd, 2012
Time: 11am-1pm
Location: Universal Solutions Martial Arts Academy
$35 per person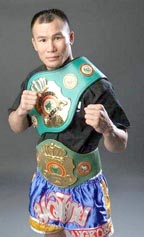 Saohin Srisuk is a two time former S-1 Muay Thai Champion and four time Pan Asian Boxing Association (PABA) boxing champion. He has fought over 80 fights in both international boxing and Muay Thai.
Saohin is from the Tiger Muay Thai gym in Phuket, Thailand where he trained MMA fighters and Thai boxers. He now lives and trains students in Vancouver, Washington.
Topics will cover:  Shadow boxing solo combinations, partner & thai pad drills, punching, elbows, knees, kicks, clinch, and sparring drills.
Universal Solutions Martial Arts Academy
2101 Grant Street
Bellingham, WA 98225
360-738-3448
Contact martin@usmaa.us for more information.