Unbridled Martial Arts in the News
Below you will find references to UMA in the local news and other media outlets.
---
Bellingham Herald Community Spotlight: Martial arts school takes different approach
MICHELLE NOLAN, January 28, 2009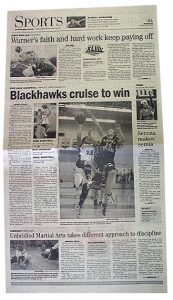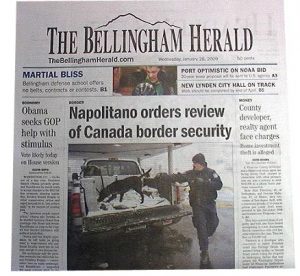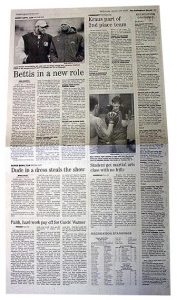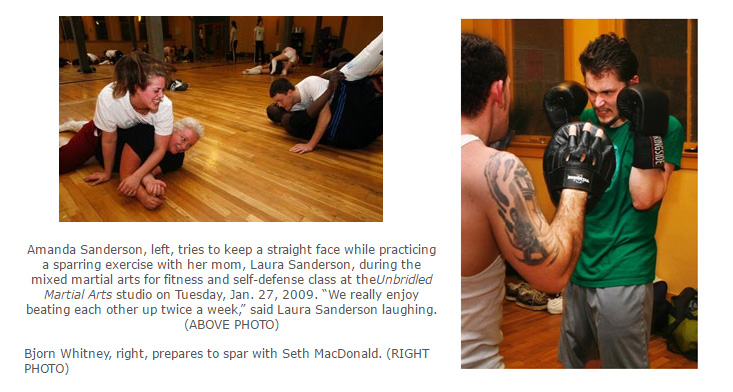 ---
Rob Eis once said, "Bellingham needs another martial arts school like it needs another Starbucks." So in 2003 he founded Unbridled Martial Arts – a school that's a little bit different. "No contracts, no belts, no kids," Eis said. "We have the only non-commercial martial arts studio in the county."
Unbridled's Web site says that by being non-commercial, the curriculum is not pre-packaged or developed by any outside group. Eis said he does not purchase other companies' programs and spoon-feed them to his students, and he doesn't utilize any revenue-generating schemes or require students to pay for mandatory tests or costly martial arts competitions.
"We're not a place for anyone who wants to brag about getting a black belt," Eis said. "There's no talk of belts in our studio. We're not part of any commercial organization. I don't do gimmicks, special rates, or trials. It's $30 a month, three nights a week." Eis said that money goes to sustaining the school's operation, not fattening his wallet.
Eis, a 38-year-old graduate of Bellingham High School with 28 years of martial arts experience, is a corrections officer with Whatcom County Juvenile Detention. In his youth he earned black belts, including numerous state and regional titles highlighted by competition in the Pan American Games, and he still doesn't discourage others who seek that path. "We actually list all the local martial arts studios on our Web site," he said. "We want people who come to our studio to feel it's the right place for them, and we want to make sure they're comfortable."
Unbridled's members must be at least 16.
Four of Unbridled's members – Bellingham residents Felicia Molano, Seth MacDonald, Manis Pierre and Alec Kirk – said Eis' studio provides a feeling of camaraderie and a special fellowship in the spirit of martial arts. "It's kind of like a family in some ways," Pierre said. "It's a unit, a body, an organized group of people with similar ambitions. I like to know how to defend myself."
The athletic ability of Eis' pupils varies greatly, from those who are non-athletes to former high school standouts. "I love (mixed martial arts) and I've always wanted to participate," said MacDonald, who was a former football player at Bellingham High School. "I was hesitant at first to come in about two years ago, because I don't like feeling stupid. But I found that Rob's a great teacher. He puts things in layman's terms, and he has real patience. He doesn't make anyone feel small. I never have a bad day in his MMA classes."
Eis, instructs in a variety of combative systems, including Western Judo [typo: Western Boxing], Muay Thai, kickboxing, street self-defense, Shamrock Submission Fighting, grappling, judo, Brazilian Jujitsu and Escrima (Filipino stick and knife fighting).
Molano, who felt like a non-athlete before entering the program, said her mixed martial arts instruction helped her cope with cancer. "I've been cancer-free for one year," she said. "I've been with Unbridled for three years, and MMA has helped me become more aware of my body." Eis said Molano has been "a rock of stability" in his program and a great example for people who weren't high school or college athletes.
Many of Unbridled's students feel that Eis' teach style should be an example for other "commercialized" studios. "Rob is never demeaning and never talks down to anyone," Pierre said. "I like the discipline and consistency here. I like things I can depend on, and Rob is totally dependable. The snow never keeps him away from our studio."
Additional Photos Posted to the Newspaper's Website
All photos taken by Bellingham Herald photographer Katie Barnes.
---
Frank Shamrock promotes Unbridled Martial Arts in his book, "Mixed Martial Arts for Dummies"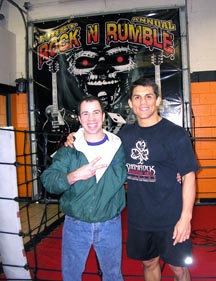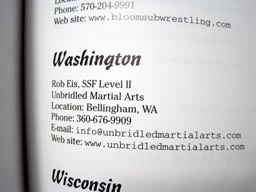 Now go out there and buy a copy!
---
VOLUNTEER SPOTLIGHT from the Max Higbee Recreation Center's Spring 2011 Newsletter Publication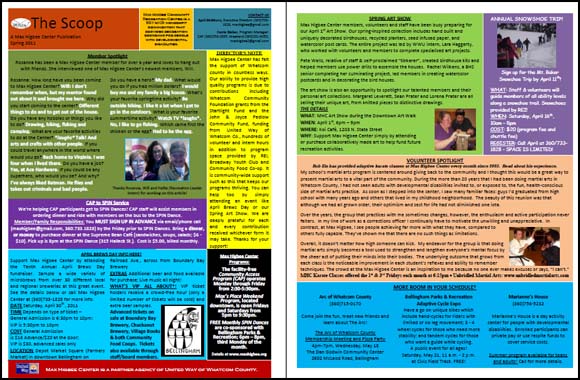 Rob Eis has provided adaptive karate classes at Max Higbee Center every month since 2003. Read about his experience.
My school's martial arts program is centered around giving back to the community and I thought this would be a great way to present martial arts to a vital part of the community. During the more than 20 years that I had been doing martial arts in Whatcom County, I had not seen adults with developmental disabilities invited to, or exposed to, the fun, health-conscious side of martial arts practice. As soon as I stepped into the center, I saw many familiar faces: guys I'd graduated from high school with many years ago and others that lived in my childhood neighborhood. The beauty of this reunion was that although we had all grown older, their optimism and zest for life had not diminished one iota.
Over the years, the group that practices with me sometimes changes, however, the enthusiasm and active participation never falters. In my line of work as a corrections officer I continually have to motivate the unwilling and unappreciative. In contrast, at Max Higbee, I see people achieving far more with what they have, compared to others fully capable. They've shown me that there are no such things as limitations. Overall, it doesn't matter how high someone can kick. My endeavor for the group is that doing martial arts simply becomes a tool used to strengthen and lengthen everyone's mental focus by the sheer act of putting their minds into their bodies. The underlying outcome that grows from each class is the noticeable improvement in each student's reflexes and ability to remember techniques. The crowd at the Max Higbee Center is an inspiration to me because no one ever makes excuses or says, "I can't."
---
Klipsun Magazine, Winter 2012: The Breaking Point
(an independent student publication at WWU)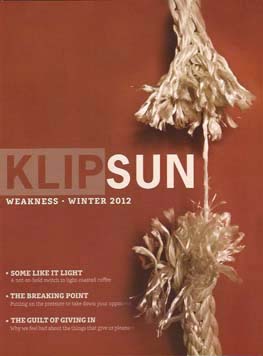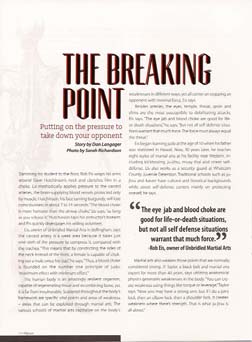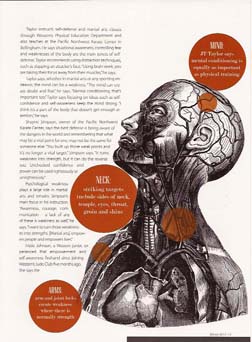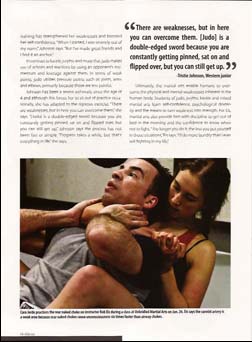 Story by Dan Langager, Article Photos by Sarah Richardson
Slamming his student to the floor, Rob Eis wraps his arms around Dave Hutchinson's neck and clenches him in a choke. Eis methodically applies pressure to the carotid arteries, the brain-supplying blood vessels protected only by muscle. Hutchinson, his face turning burgundy, will lose consciousness in about 7 to 14 seconds. "The blood choke is more humane than the airway choke," Eis says, "as long as you release it." Hutchinson taps his instructor's forearm and Eis quickly disengages his willing volunteer.
Eis, owner of Unbridled Martial Arts in Bellingham, says the carotid artery is a weak area because it takes just one-sixth of the pressure to compress it, compared with the trachea.
"This means that by constricting the sides of the neck instead of the front, a female is capable of choking out a male twice her size," he says. "Thus, a blood choke is founded on the number one principle of judo: 'maximum effect with minimum effort.'"
The human body is an amazingly resilient organism, capable of regenerating tissue and recombining bone, yet it is far from invulnerable. Scattered throughout the body's framework are specific vital points and areas of weakness – areas that can be exploited through martial arts. The various schools of martial arts capitalize on the body's weaknesses in different ways, yet all center on stopping an opponent with minimal force, Eis says.
Besides arteries, the eyes, temple, throat, groin and shins are the most susceptible to debilitating attacks, Eis says. "The eye jab and blood choke are good for life-or-death situations," he says. "But not all self-defense situations warrant that much force. The force must always equal the threat."
Eis began learning judo at the age of 10 when his father was stationed in Hawaii. Now, 30 years later, he teaches eight styles of martial arts at his facility near Western, including kickboxing, jiu-jitsu, muay thai and street self-defense. Eis also works as a security guard at Whatcom County Juvenile Detention. Traditional schools such as ju-jitsu and karate have cultural and historical backgrounds while street self-defense centers mainly on protecting oneself, he says.
Martial arts also weaken those points that are normally considered strong. JT Taylor, a black belt and martial arts expert for more than 40 years, says utilizing anatomical physics generates weaknesses in the body. "You can create weakness using things like torque or leverage," Taylor says.
"Now you may have a strong arm, but if I do a joint lock, then an elbow lock, then a shoulder lock, it creates weakness where there's strength. That is what jiu-jitsu is all about."
Taylor instructs self-defense and martial arts classes through Western's Physical Education Department and also teaches at the Pacific Northwest Karate Center in Bellingham. He says situational awareness, controlling fear and weaknesses of the body are the main tenets of self-defense. Taylor recommends using distraction techniques, such as slapping an attacker's face. "Using brain work, you are taking their focus away from their muscles," he says.
Taylor says, whether in martial arts or any sporting endeavor, the mind can be a weakness.
"The mind can create doubt and fear," he says. "Mental conditioning, that's important too." Taylor says focusing on ideas such as self-confidence and self-awareness keep the mind strong. "I think it's a part of the body that doesn't get enough attention," he says.
Shayne Simpson, owner of the Pacific Northwest Karate Center, says the best defense is being aware of the dangers in the world and remembering that what may be a vital point for one, may not be the same for someone else.
"You built up those weak points and it's no longer a vital target," Simpson says. "It turns weakness into strength, but it can do the reverse too. Unchecked confidence and power can be used righteously or unrighteously."
Psychological weakness plays a large role in martial arts and remains Simpson's main focus in his instruction.
"Awareness, courage, communication – a lack of any of these is weakness as well," he says. "I want to turn those weaknesses into strengths. [Martial arts] empowers people and empowers lives."
Tristie Johnson, a Western junior, experienced that empowerment and self-awareness firsthand since joining Western's Judo Club five months ago. She says the
training has strengthened her weaknesses and boosted her self-confidence. "When I started, I was severely out of my norm," Johnson says.
"But I've made great friends and I find it an anchor."
In contrast to karate, jiu-jitsu and muay thai, judo makes use of actions and reactions by using an opponent's momentum and leverage against them. In terms of weak points, judo utilizes pressure points such as joints, arms and elbows, primarily because those are less painful.
Johnson has been a severe asthmatic since the age of 4 and although this forces her to sit out of practice occasionally, she has adapted to the rigorous exercise.
"There are weaknesses, but in here you can overcome them," she says. "[Judo] is a double-edged sword because you are constantly getting pinned, sat on and flipped over, but you can still get up." Johnson says the process has not been fast or simple. "Progress takes a while, but that's everything in life," she says.
Ultimately, the martial arts enable humans to overcome the physical and mental weaknesses inherent in the human body. Students of judo, ju-jitsu, karate and mixed martial arts learn self-confidence, psychological dexterity and the means to turn weakness into strength.
For Eis, martial arts also provide him with discipline to get out of bed in the morning and the confidence to know when not to fight.
"The longer you do it, the less you put yourself in those situations," Eis says. "I'll do more laundry than I ever will fighting in my life."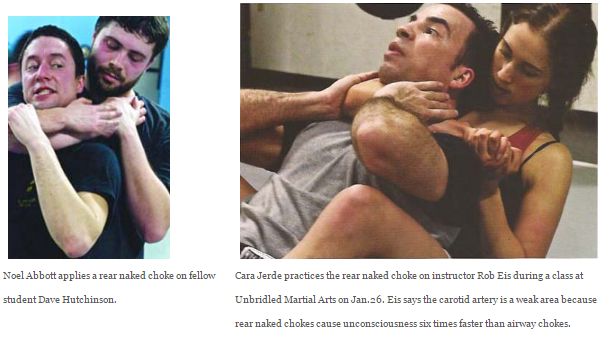 *Follow-up Notes from Rob:
I was very pleased to be included in an article for the Klipsun that featured a discussion by local martial arts instructors about weakness. However, a few points were confused and I feel the need to address some discrepancies.
Inaccurate Paraphrasing:
When paraphrasing one of my statements, the article states, "The various schools of martial arts capitalize on the body's weaknesses in different ways, yet all center on stopping an opponent with minimal force, Eis says."
In discussing the legalities of self-defense, I said that people can get sued for excessive force when their actions aren't legally (and morally & ethically) justified. I never said ALL martial arts center on stopping an opponent with minimal force. That makes no sense. In fact, I pointed out that muay thai is a martial art that focuses on brutal, offensive strikes and jiu-jitsu contains bone breaking joint-locks.
Also, toward the end of the article, a statement was misrepresented, I had said martial arts gives me physical energy and a disciplined lifestyle. I believe my words were, "Martial arts give me the energy to get out of bed in the morning and the discipline not to hit my snooze alarm in the process."
Misunderstood subject:
I spoke about choosing appropriate responses to threats and gave the example of gouging the eye as a deadly force, life-or-death technique. Later I talked about an eye jab (different than an eye gouge) which is appropriate for low level threats because it is more humane and less debilitating.
Incorrect information:
In kindergarten in Hawaii I visited a martial arts school but did not join a school until I moved to Bellingham. At age 10 I started in Karate, not Judo.
At the time, I worked as a Corrections Officer at Whatcom County Juvenile Detention, not a security guard.
---
Learn more about UMA: